The 99 Lighthouses Projects aims at championing the best examples from all around the world. We collect 'lighthouses', i.e. examples and cases that shed light on one or more aspects on the real-life implementation of Responsible Wellbeing. A lighthouse can be a project  or development from any of the following industries: hospitality, wellness, spa, healthcare, leisure, recreation and entertainment.
Four main factors are looked at and evaluated: 
UN Sustainable Development Goals (SDG17) – Which of the 17 goals have taken the project into account and how does it apply inspirational solutions?
Wellbeing Domains – Which of the 7 wellbeing domains has been considered and how is the project's or destination's wellbeing DNA defined?
Focus Area – Which area(s) represent(s) the core of the wellbeing direction from generic wellness to healing?
Project or Destination Type – What kind of project or destination is it in question?
The four factors are as follows:
UN Sustainable Development Goals – as it is defined by the United Nations (UN) there are 17 Sustainable Development Goals.
Please, select the ones that are relevant for your project or for your destination.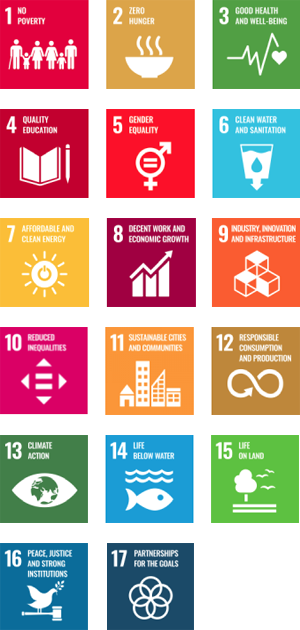 Wellbeing Domains – wellbeing is defined by 7 domains. There are numerous ways a property or destination may aim at improving the guests' wellbeing. Many of those attempts may not even be manifested in a form of an actual service, 'only' being incorporated in the overall service concept or story telling. Select that or those your business or destinations specifically focuses on.
Intellectual Domain – focusing on intellectual development, being curios about all, happy to  learn all through life, responding positively to intellectual challenges. Being ready and willing to sharing one's gifts with others
Spiritual Domain – finding value, meaning of life, connection or purpose with or without organized religion
Occupational/Vocational Domain – selecting and participating in work or activities that provides personal life enrichment or completion, satisfaction in line with one's lifestyle, values, and goals. Putting one's skills, passion and talents to work that is personally meaningful and rewarding
Environmental Domain – being aware and understanding one's role in and impact on social, natural, and built environments, and how that may  affect wellbeing. Actively contributing to the preservation of every aspect of our environment.
Psychological Domain – caring for one's body to stay healthy now and in the future
Social Domain – respecting and caring about others, enjoying being with others, developing friendships and relationships, letting others care. Actively contributing to community.
Emotional Domain – being aware of and respecting one's feelings, values, or attitudes, as well as appreciating the feelings of others.
Key Focus Areas – based on our 25+ years of experience in wellness and wellbeing development and management we identified five groups we focus on. We understand that a project or a destination may fall under more than just one group. Feel free to select the relevant one(s).
Wellness – aiming at wellness in general, when wellness addresses human health in a holistic or comprehensive sense and assumes that each person will actively participate in protecting their health, in preventing diseases and will not leave all this to medication.
Holism/spirituality – referred to the balance of body, mind, emotion and spirit as well as with the natural and social worlds, and the connection to oneself and the universe. It is also about the search for a higher meaning beyond physical existence.
Medical/healthcare services – treatments, therapies and services that aim at the improvement of a certain issue, condition, indication or illness. Let those be conventional or integrative approaches.
Health/healing – defined as a holistic process of getting better, recovery or a natural restoration of health and balance of life. This can include physical, mental, psychological, and emotional dimensions and related activities, treatments of services.
Entertainment/Leisure – the project that aims at a leisure pursuit and provides entertainment opportunities and services to its guests.
Type of Project – project may come in very different forms and styles. The categorization below groups the most likely typologies. Please, select only one.
Hotel, resort – accommodation establishments of various sizes, styles and themes
Clinic/hospital – licenced establishments aiming at curing illnesses, offering rehabilitation services with the active involvement of healthcare professionals
Retreat – are typically small and remote establishments, mainly catering for wellness and holistic guests who are not ill but may feel unbalanced, stressed or in need of some time for themselves
Spa – places devoted to overall wellbeing through a variety of professional services that encourage the renewal of mind, body and spirit from dayspas, through hotel/resort spas to destination spas (after ISPA)
Hot spring/thermal/thalasso – spas, baths, centres built on natural resources such as hot or thermal springs, or the sea (i.e. thalasso)
Destination – a geographically and/or administratively defined area, e.g. city, region, valley, etc. that can attract visitors on its own right
Entertainment/Leisure/Recreation – parks, leisure centres, themed attractions, etc.
It is recognized that Responsible Wellbeing can be implemented both at project as well as at destination level. Recommendations may be received from developers, operators or destination management bodies, organizations. Recommendations are expected to show a track record. Projects that have not yet in operation may also apply but these will be reviewed separately.
Feel free to talk to us, happy to discuss alternatives before the recommendation is sent!